How to pick the right ceiling for your space

Determine the installation method
Is this a new ceiling or is there an existing grid?
Consider different performance features
Determine if this is a DIY project
Determine the installation method
Is this a new ceiling or is there an existing grid?
Consider different performance features
Determine if this is a DIY project
Determine the installation method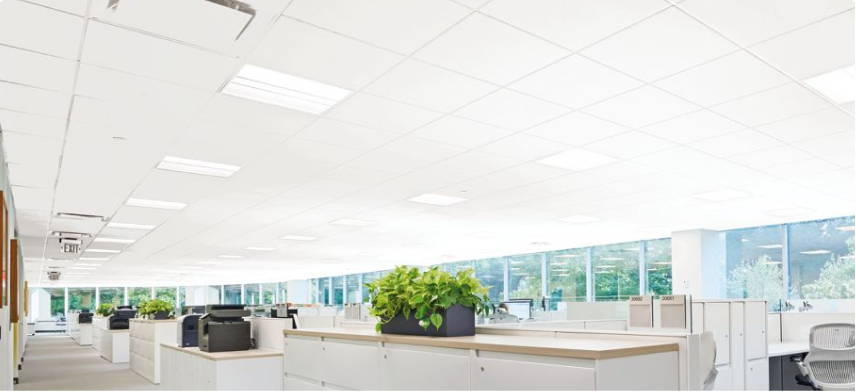 This style allows for the ability to access items above, including plumbing, electrical wiring, lighting, and ductwork.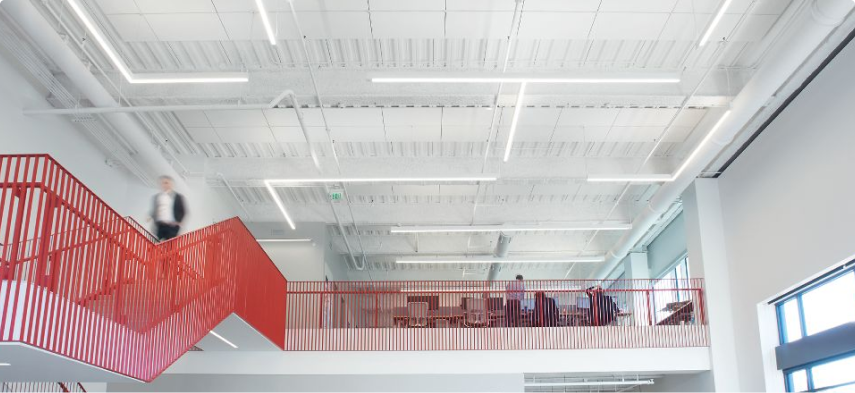 This method maximizes the ceiling height and design versatility.
---
Is this a new ceiling or is there an existing grid?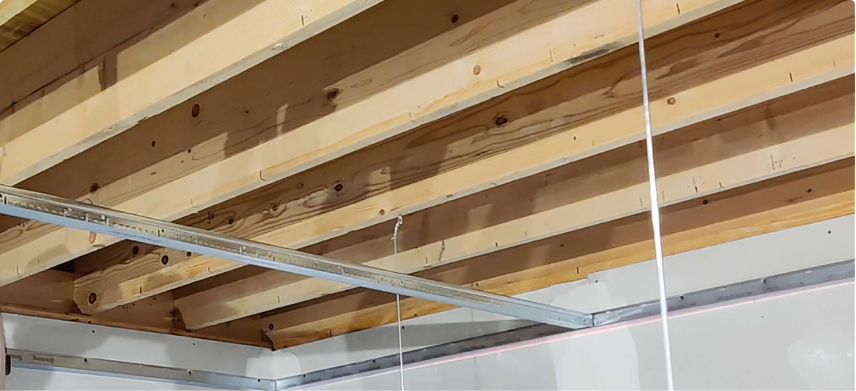 Suspended ceiling
Items in this ceiling style include:
1. Ceiling tiles: Most drop ceiling tiles are either 2' x 4' or 4' x 4' but other sizes are available too.
2. Ceiling grid: Used to suspend the ceiling tiles from the structure above. Items that make up the ceiling grid include main beam, cross-tees, wall molding and hanger wire.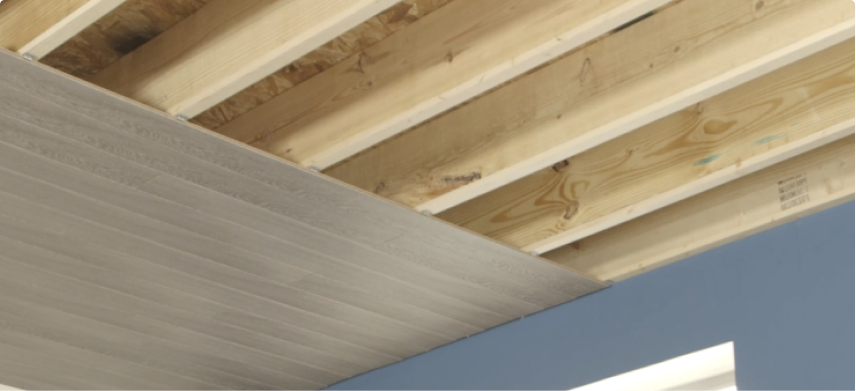 Surface mount ceiling
Different ways to attach this ceiling style are:
1. Easy-Up tacks and clips: Used with our WOODHAVEN planks, metal tracks attach directly to ceiling joists, and the WOODHAVEN planks attach to the clips.
Note: WOODHAVEN planks are a residential product.
2. Adhesive: Used to install mineral fiber tiles directly to existing drywall, plaster and concrete ceilings.
Note: when using this installation method, the drywall or plaster ceiling must be smooth and even - only certain products can be applied this way.
3. I-beams: Attach certain tiles to I-beams using furring strips (metal or wood) or hat channels with screws or with our All-in-one self-stop fastener.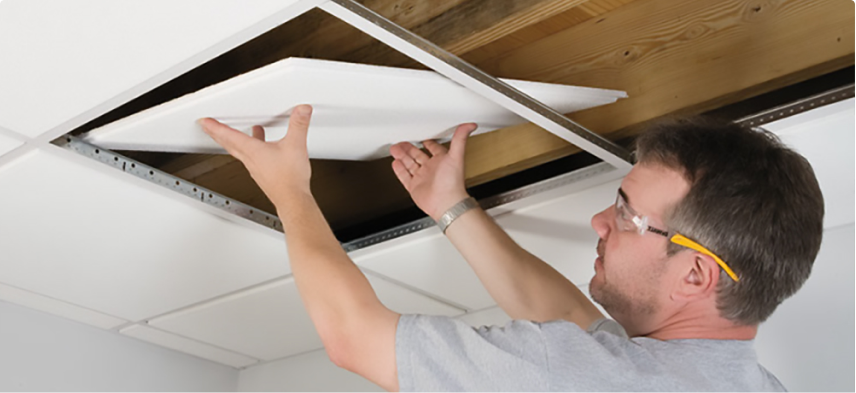 For existing grids, changing tiles is as easy as popping old tiles out and replacing with fresh new ones. If you want to keep the same size tiles, you can easily match with no other items needed.
There is also the option to convert 2' x 4' tiles into 2' x 2' tiles. This is done by following these steps:

1. Remove all of the ceiling tiles
2. Attach 2' cross tees to the grid, cutting each tile space in half.
3. Drop in the new 2' x 2' tiles to finish the look.

Note: Be aware of your existing grid size. When picking a new ceiling tile, the edge profile of the new tile needs to fit into the existing grid. The most common grid width is 15/16", however, 9/16" is another size that is increasing in popularity.
---
Select from various materials, textures, edge details, size, and color.
• Mineral Fiber
Made from recycled newspaper, perlite, fiberglass, mineral wool, and binding agents, making them a highly reliable sound-absorbing solution.

• Fiberglass
Lightweight, easy to handle alternative to traditional ceiling material. Fiberglass material provides easier installation; these panels offer flexibility in tight spaces, such as around pipes and ductwork.

• Medium Density Fiberboard
An engineered wood product made by breaking down hardwood or softwood residuals into wood fibers combining it with wax and a resin binder, and forming it into panels by applying high temperature and pressure.

• TECTUM wood fiber
Made of natural fibers and binders that are turned into unique, sound-absorbing, textured ceiling and wall panels that bring nature inside. Ideal for spaces where sustainability, durability, and noise control are needed.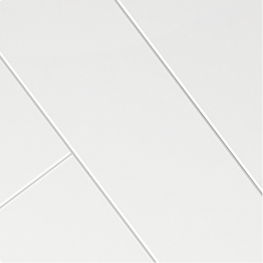 Tongue and Groove
(No visible grid)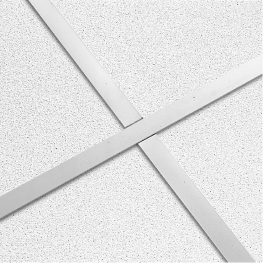 Square Edge
(Visible grid)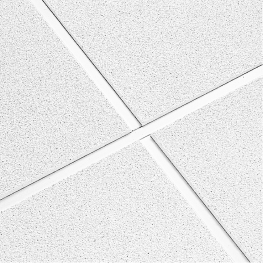 Tegular Edge
(Minimized grid look)
---
Consider different performance features

Sound Absorption
Sound bounces off of hard surfaces and reflects back to us causing excess noise and echoes. Ceiling tiles can help dampen this noise and are measured in NRC (Noise Reduction Coefficient), which is the percentage of how much of that sound a tile can absorb. For example, a tile with an NRC of .95 will absorb 95% of the sound that strikes it significantly reducing distracting noise in a space.
Best for
Spaces where there are many hard surfaces or places like open offices, restaurant dining rooms, or anywhere you need sound control.

Sound Blocking
Ceiling tiles can actually block excess noise from traveling to other rooms or between floors. The measure of a ceiling tile's ability to block sound is CAC (Ceiling Attenuation Class). The CAC rating says how many decibels a tile can block when part of a wall-to-wall ceiling installation. A CAC of <25 is considered low performance while a CAC >35 is high performance.
Best for
Basements or spaces where privacy is a concern like patient rooms or private offices.

Best for
Indoor spaces that aren't temperature-controlled all of the time, but not up to 100% humidity.

Light Reflectance
A number that indicates the percentage of light that ceilings reflect - the less texture on a white panel means more light reflectance.
Best for
Indoor spaces that need to be brightened up - they reflect natural light and can even boost productivity!

Sustainable
These tiles are made from a high amount of recycled content, free from "chemicals of concern".
Best for
Spaces that need to meet various green building standards in the U.S.

Cleanable
Tiles with this characteristic are able to withstand light washing, without compromising the finish or other attributes.
Best for
Laboratories, clean rooms, food prep areas, or any other space where cleanliness is a concern.

Disinfectable
Tiles with this trait have the ability to be disinfected after they are cleaned. These tiles can be fogged, sprayed, or wiped.
Best for
Schools, hospitals, offices, or any other space that requires the latest in disinfecting and cleaning.
Soil Resistant
Ceiling tiles with this characteristic maintain their appearance, acoustics, and light reflectance when soil comes in contact with them.
Best for
Kitchens, hospitals, and cafeterias.

Scratch Resistant
These tiles can withstand surface scratching from people or objects.
Best for
Areas where the plenum needs frequent access, such as hospital corridors, school corridors, or bus terminals.

Impact Resistant
These tiles can withstand occasional abuse, including surface impact.
Best for
School corridors or gymnasiums.

Fire-Rated
All Armstrong suspended ceiling tiles are Class A fire rated making them compliant with building codes, though it is still important to check on the drop ceiling fire code in your specific area. No ceiling tile is completely fire-resistant. Class A fire rated materials prevent rapid flame and smoke spread and withstand severe fire exposure for a longer time. This is important because not only does it help preserve as much of the building as possible for as long as possible, but it helps to prevent the spread of fire to other areas of the building or neighboring buildings for as long as possible too. Note: Some tiles are fire rated as Fire Guard: A fire-resistive ceiling when used in applicable UL assemblies. These tiles are denoted as Fire Guard.
Best for
Spaces that need to comply with building codes - every space!

---
Determine if this is a DIY project or if you are hiring the Kanopi installation team

Installing your own ceiling, no matter if it is a new wood-look ceiling or a more traditional panel, can sometimes be an overwhelming task. But it doesn't have to be! All of our ceiling products are considered to be DIY-friendly, but depending on your skill level, some of the ceiling projects may require our installation team.

Basic tools needed:
1. Sharp carpet knife
2. Chalk line
3. Clamps
4. Drill bit set
5. Cordless drill
6. Hammer
7. Tin snips
B. Utilizing Kanopi Installation team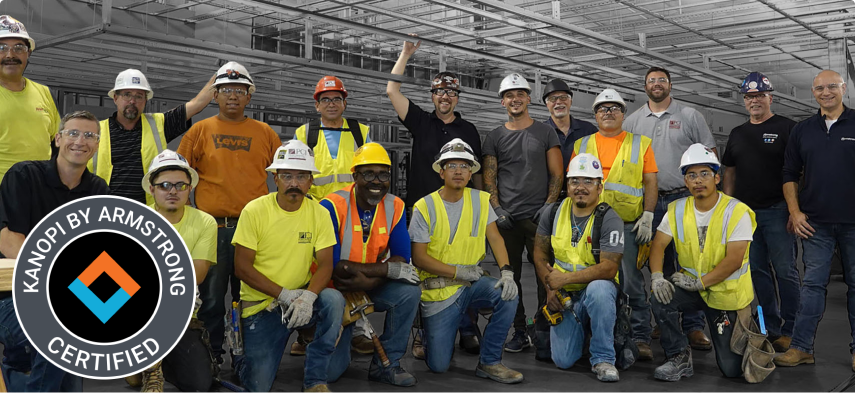 Backed by Armstrong Ceilings
160+ years of trust and experience. All jobs are backed by Armstrong Ceilings' material warranties and a 2-year installation warranty.

Quality work by Certified Installers
We vet, train and certify some of the best talent in the industry (and your area) to ensure the Armstrong Ceilings' quality promise in every job.

Transparent, upfront pricing
We get the need for thoughtful spending, so we break out all materials, labor, and equipment costs for complete transparency.

Managed around your schedule
Get upfront date availability and even the option for after-hours services to enable you to find a time that works best for your unique business needs.