Sold & Shipped by
Multiple colors and finishes
These tiles are offered in a wide variety of sizes, colors, or finishes.
Absorbs sound
These tiles are some of the best at bringing down the noise in your space.
Impact resistant
These tiles are able to withstand occasional impact. Ceiling tiles with this characteristic are best used in school hallways, gymnasiums, or cafeterias.
Details
Sold & Shipped by
Fire Rating: Class A
Flame-spread 25 or less, smoke developed 50 or less
What do these features mean?
Compatible grid system
Need help installing? We've got you covered
If you need a little help, we've made it easy for you. Let's get this ceiling project done right so you can keep your business moving.
Free consultation
Backed by Armstrong Ceilings
Managed around your schedule
Saves you time
Quality Work by Certified Installers
GET A FREE QUOTE
Customer Reviews
Write a Review
Ask a Question
Shasta fiberglass ceiling tile
Very kind on the phone. Recommend me to order online which was very easy after their help. Delivery was easy and gave me a heads up on delivery time. My only problem was some of the middle tiles were crushed a bit and one tile had a corner that was not clued properly to the fiberglass. The Shasta tile was easy to install and had a very simple texture look to it
06/27/2022
Janet N.

United States
Just what I needed. Thank you.
Tiles arrived well packaged, with no apparent damage. I haven't torn open the packing because I'm not ready to put them up yet.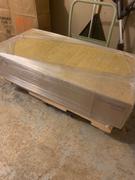 05/01/2022
Louise I.

United States
Fiberglass ceiling tiles
Very easy to order and was received and delivered in a timely fashion
Have questions? We're here to help
Chat with us
Our customer service can answer any of your ceiling questions.
Book a consultation
We will get back to you within 2 business days.
Give us a call
Our friendly experts will help you find exactly what you need.